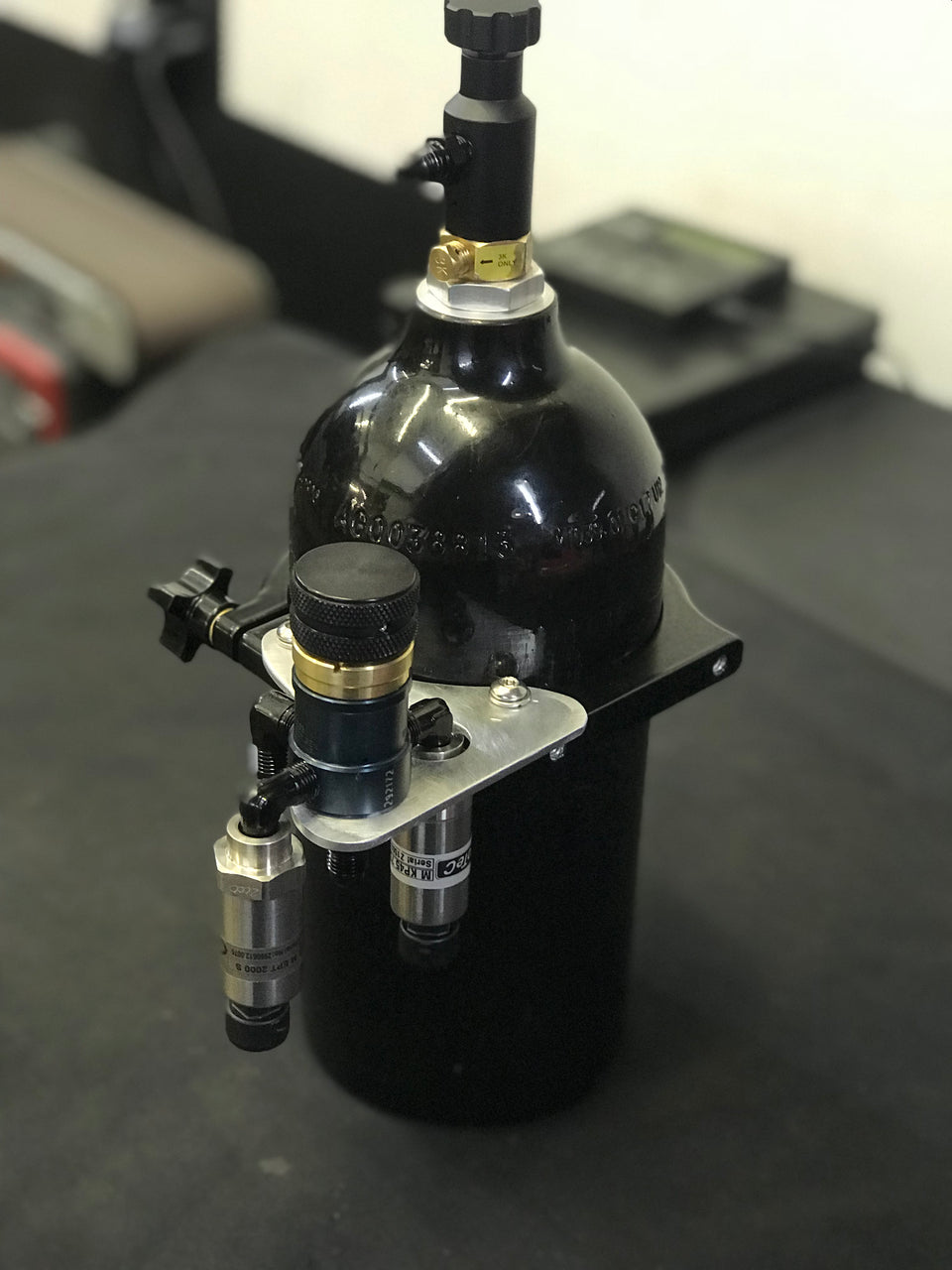 Finally a complete kit for CO2 Boost control for street or drag application.....
-Monitor and log your CO2 bottle pressure and regulated line pressure separately via pressure transducers
-Incrementally adjust CO2 line pressure and lock it down for repeatable pressure during bottle open/close cycles.  The regulator we use in this kit is the highest quality on the market.
-Set base waste gate pressure spring to 8-10 lbs. and have the ability to run low boost up to the turbos full boost capability.  Test cars have shown range from 10-85 lbs. of boost.
-Eliminate early waste gate opening from exhaust back pressure.
-Add optional air shift solenoid for air shifted automatic cars.
-System can also provide CO2 for air chute launchers or air actuated chute handles.
-Kit includes the following hardware:
-2.5 lb long lasting CO2 bottle w/3,000 psi burst disc.
-Black anodized bottle bracket (1.625", 1.75" mounting options)
-Hi pressure quality regulator with adjustment knob
-Bottle actuator (clockwise to open)
-CPR regulator mount (mounts regulator to bottle bracket for compact install/design. No remote mounting of solenoid required)
-Billet black anodized CO2 solenoid block for increase and decrease solenoids.
-Pressure sensors for bottle pressure monitoring, line pressure monitoring, and required wastegate pressure sensor. (7 bar included)
-Required regulator feed line and fittings for plumbing sensors, regulator, and pressure out fittings.  All provided in kit
THIS KIT IS WELL OVER $1300 TO PIECE TOGETHER ON YOUR OWN.