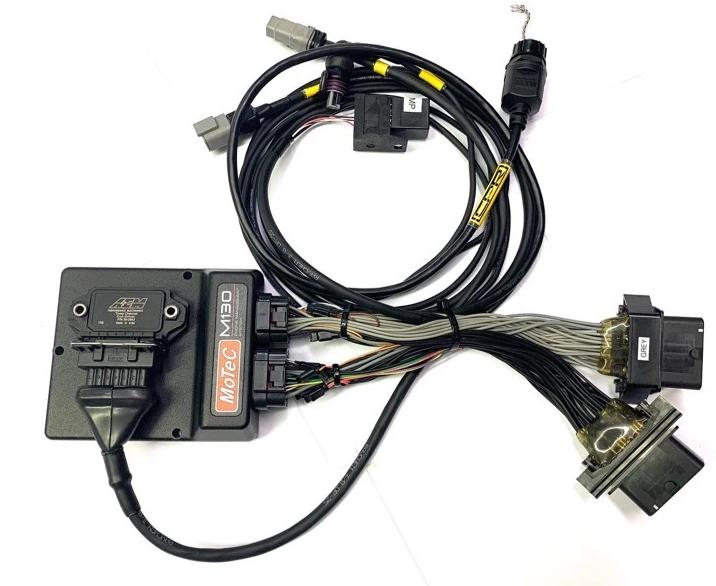 This full standalone kit replaces the stock ECU and provides a powerful tuning solution. The M130 kit plugs right in to your X3 Turbo and includes a start up calibration customized to your setup
OEM ECU Core required for 2021 model in order to make the jumper harness.
This kit fits 2017+ Can-Am Maverick X3 Turbo models.  
Included leads with this kit are a DST-4 (used for 4 position boost control on the fly), a MoTeC LTC lead for lambda feedback via CAN bus, and ethernet programming cable.
Additional leads can be added prior to shipping to suit your project needs (I.E. - fuel psi, flex fuel sensor, map sensor, etc.)
Add a MoTeC C125 dash and/or keypad for the ultimate in functionality
Complete integration with Can-Am CAN bus - maintains full OE vehicle operation and dash functionality
Full control of all engine parameters including fuel, timing, boost, launch, etc with live tuning

Features a 12 pin DTM connector with spare inputs and outputs - makes adding additional sensors and components easy
Support for staged injection - run a second set of injectors for high power or alcohol fuels

Closed loop lambda control - using optional lambda sensor

Flex fuel control - adjust fuel, timing, boost, cold start and more based upon ethanol content

Supports running two separate fuel systems - each with a different type of fuel

Launch control - trigger from vehicle speed or add an external switch

Nitrous control - various parameters supplied to control nitrous. Includes nitrous bottle heater relay control based on nitrous pressure

CO2/wastegate pressure control - controls a fill/bleed solenoid setup to control wastegate pressure

Water injection control - with fail safe for boost/timing/fuel based on pressure sensor feedback

Knock control

Cruise control - useful for pit speed control
Full control of cooling fan activation points. 

Supports the use of third party lambda controllers with 0-5v output

Supports momentary buttons

Supports direct input from a MoTeC/Racegrade CAN keypad

You (or your tuner) have full control, at all times, of every aspect of engine operation along with the data to make informed tuning decisions. No more sending ECUs out for a mystery re-flash, and hoping it is optimum for your exact setup. Knowledge is power - race (and play) smart! 
Like anything, the MoTeC M1 requires knowledge and experience to gain the best results. While we are happy to answer technical questions, purchase of this M1 kit does not come with unlimited tuning support. We can quote tuning for your particular setup, refer you to someone in your area, or if you prefer to do it yourself (and lack the experience) then we can also quote training.

This ECU kit is for closed course competition vehicles only. It does not meet federal emissions requirements.